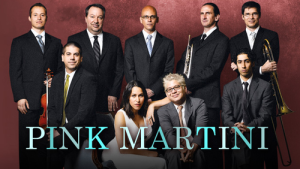 On October 16, one of the most interesting American bands in the last two decades will visit Bulgaria for the first time. Only 3 weeks after the world premiere of their new album, called "Get Happy", Pink Martini arrives in Sofia to present their music. Exactly at 20:00 on October 16, the musicians will appear on the stage of Hall 1 of the National Palace of Culture for their first meeting with the Bulgarian public.
For the concert in Sofia will arrive a small orchestra of 18 musicians, led by the group's founder Thomas Lauderdale. The brilliant performance of Pink Martini will transfer their fans back to the time of the pompous costumes of the 20th century. The emotional charge of their songs, together with the romance of the 30s and the beauty of one long gone age will leave the public breathless.
The concert in Sofia is part of a world tour, dedicated to the "Get Happy" album. Pink Martini creates unique positive music which inspires their fans in all continents. The band`s  performance is a colourful mix of classic elements, jazz, pop and Latin rhythms.