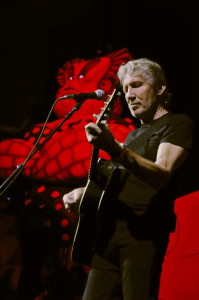 Roger Waters will sing with Bulgarian children at his concert "The Wall" in Sofia, Bulgaria. The show will take place on August 30 at the National Stadium "Vasil Levski."
During the autobiographical rock opera, Waters recreates his personal messages in a unique way. The show is full of visual effects, including the fall of the Berlin Wall, the reviving of the puppet master and many more. Involved with various charities, Waters pays special attention in the concert to the children. Perhaps the most emotional part of the show is the photo shots of happy children, surprised by the return of their fathers who fought in Iraq and Afghanistan. Waters' father died during the Second World War. This left a mark on the music legend and inspired him to create together with his band Pink Floyd one of the most popular and beloved albums of all time – "The Wall," Sofia Music Enterprise organizers said.
In each country, where "The Wall" is presented, Roger Waters invites 15 children on the stage to perform with him the classic "Another Brick in the Wall" song. This will happen in the concert in Sofia as well. The children who will have the unique opportunity to sing and dance alongside with the rock legend are already being selected. "Good singing and dancing skills are not required, for Waters it is more important to feel the enthusiasm of the children and to be inspired by their smiles," the organizers said.
The music in "The Wall" includes variations of "Another Brick in the Wall," "Comfortably Numb" and "Mother." "In the Flesh?" will launch the show. The wall of white bricks with the dimensions of a huge stadium is not the only special effect of the show. Puppets, as tall as the wall, are an integral part of the concert. There are fireworks, sound and light effects that recreate combat aircrafts and a huge balloon in the shape of a pig which flies over the audience.
The tickets for Waters rock show of Roger Waters range from BGN 65 to BGN 180. The screenplay writer of "The Wall," George Roger Waters (born September 6, 1943) is an English musician, singer, songwriter and composer. He was founder member of the progressive rock band Pink Floyd, serving as bassist and co-lead vocalist.
Roger Waters – The Wall Live Trailer