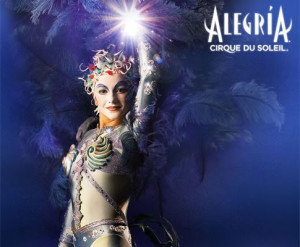 Cirque Du Soleil's Alegría will deliver five performances at "Arena Armeec Sofia" from September 20 to 22, 2013.
 At its inception in 1984, Cirque du Soleil included but 20 artists. Today, the troupe that delivers show-stopping performances worldwide includes over 5 000 people, 1 300 of which are artists and acrobats from over 50 different countries.
 Cirque du Soleil  has delighted audiences of over 100 million people in 300 cities, in 40 different countries on all six continents.  The company is headquartered in Montreal, Canada, and over the years they have accumulated a series of prestigious awards such as an Emmy, Drama Desk, Bambi, ACE, Gemeaux, Felix, and a Rose d'Or de Montreaux.
 The spectacle is performed by an international team of artists, including 55 acrobats and 15 musicians from 15 different countries. The show is presented in a baroque, operatic style, full of lavish costumes, live music, and an elaborate décor, all complementing the unique athletic and artistic display on stage! Alegría is a "baroque ode to the energy, grace, and power of youth."
 Alegría presents the spectator with a series of breathtaking acrobatics such as the Synchronized Trapeze or the energetic, and mesmerizing Arial High Bar performance, during which audiences can watch daring acrobats to fly to and from the arms of mighty catchers, suspended by their knees on a cradle swing.
 Next, imagine two uncannily flexible acrobats who bring the refined Mongolian art of contortion to life. Or, the authentic ritualistic Fire-Knife Dance, during which the artist weaves a baton-like fire knives around their entire body to the pulsating rhythm of conga drums.
 The Power Track, a true embodiment of youthful energy – a brilliantly synchronized choreography of trampoline jumps, with the trampolines being careful hidden underneath the stage. The suspenseful Flying Man act is a gravity-defying graceful performance where the artist soars through the air while performing acrobatic feats. The Russian Bars showcases fantastic flying acrobats who perform somersaults and twists in mid-air at an incredible speed.
 Alegría is much more than a show! This is a unique and exciting spectacle that charms audiences of all ages!
SCHEDULE:
| | |
| --- | --- |
| Date | Start Time |
|  September  20th,  2013 Friday | 8 pm |
| September  21st,  2013 Saturday | 4 pm and 8 pm |
| September  22nd,  2013 Sunday | 2 pm and 6 pm |